EVERY PATIENT WHO HAS AN EXAM AT BEMIDJI DENTAL CLINIC RECEIVES A FREE ORAL CANCER SCREENING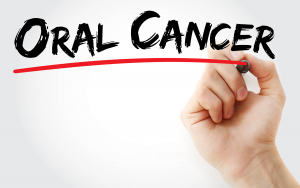 What you should know about oral cancer
Detecting oral cancer early can nearly double your chance of survival. Therefore, it is important that you know what factors put you at risk of developing the disease and what symptoms to watch for. Approximately 3% of all cancers diagnosed in 2015 involved the mouth or the back of the throat. When certain types of skin cancer were excluded, these oral cancers accounted for most head and neck cancers.
Risk Factors
Some risk factors for developing oral cancer are beyond your control. Men tend to be at greater risk than women for oral cancer, which is diagnosed most often in adults between the ages of 55 and 64 years. However, you can control other risk factors. For example, some behaviors that may put you at risk include:
using tobacco products
drinking alcohol heavily (more than 4 drinks a day)
using alcohol and tobacco products together (significantly increases the risk)
using betel quid (paan)
eating a diet low in fruits and vegetables
spending long periods in the sun, which is associated with lip cancer.
Another risk factor on the rise is infection with the human papilloma virus (HPV), which is sexually transmitted. Specifically, HPV is linked to cancers classified as oropharyngeal. Oropharyngeal cancer involves tissues near the back of the mouth and throat, including the back and base of the tongue, and the tonsils. People who have HPV-related oropharyngeal cancer tend to be 4 to 10 years younger than people with oral cancers that are not related to HPV.
Oral Cancer Signs
Some signs you can watch for include
a sore on the lips or in the mouth that will not heal
red or white patches in the mouth
pain, tenderness, or numbness on the lips or in the mouth
a lump, thickening, a rough spot, crusty area, or eroded area on the lips or in the mouth
difficulty chewing, swallowing, speaking, or moving the jaw or tongue
a change in the way your teeth fit together when you close your mouth
a lump or growth in your throat or neck
cough or sore throat that will not go away
earache
trouble swallowing
hoarseness or other changes in your voice.