Trained in the dental field, Dr. David Schram, Dr. Blake Smith and their team are in the unique position of looking into peoples' mouths daily. Through the advancement and investment of modern technology and extensive training, they knew that an important part of patient health must be further explored: Airway health, which is directly related to overall health and many health conditions. What started as simply caring more fully for those they care for, expanded into a passion and the realization that far too many people are undiagnosed and untreated for airway health issues. Many do not know they have an airway problem nor that other health concerns may be linked to airway health. As patients visited, sometimes in tears upon the realization that what was going on in their lives was validated by real life physical reasons — and better yet, that there was help — the doctors knew they had more to offer to the community and beyond. Thus, the birth of Better Sleep Bemidji, where, through screening and collaboration with physicians, help can be achieved. The statistics are astounding. 80-90% of people who have sleep apnea are undiagnosed: 1 in 4 men and 1 in 10 woman having sleep apnea. It is the knowledge and training which we have gained which has fueled our passion to help the community by opening Better Sleep Bemidji.

Dr. Blake Smith (pictured on left) grew up in Little Falls, Minnesota, and graduated from Bemidji State University in 2007. Dr. Smith worked as a food chemist making imitation crab meat for one year in Motley, Minnesota and as a Quality Supervisor in a Plasma Clinic in St. Paul for another year. He graduated from the University of Minnesota School of Dentistry in 2013, and then joined Bemidji Dental Clinic. He and his wife Stacy, a Physician's Assistant with the Sanford Health System, were thrilled to have an opportunity to come back to the place they love! Dr. Smith and Stacy have two wonderful children. Dr. Smith spends his free time hanging out with family and friends, hunting and fishing around Cass Lake, and enjoying the many biking paths around the area. Dr. Smith is excited about what new technology brings to patient care. He especially loves working with young families.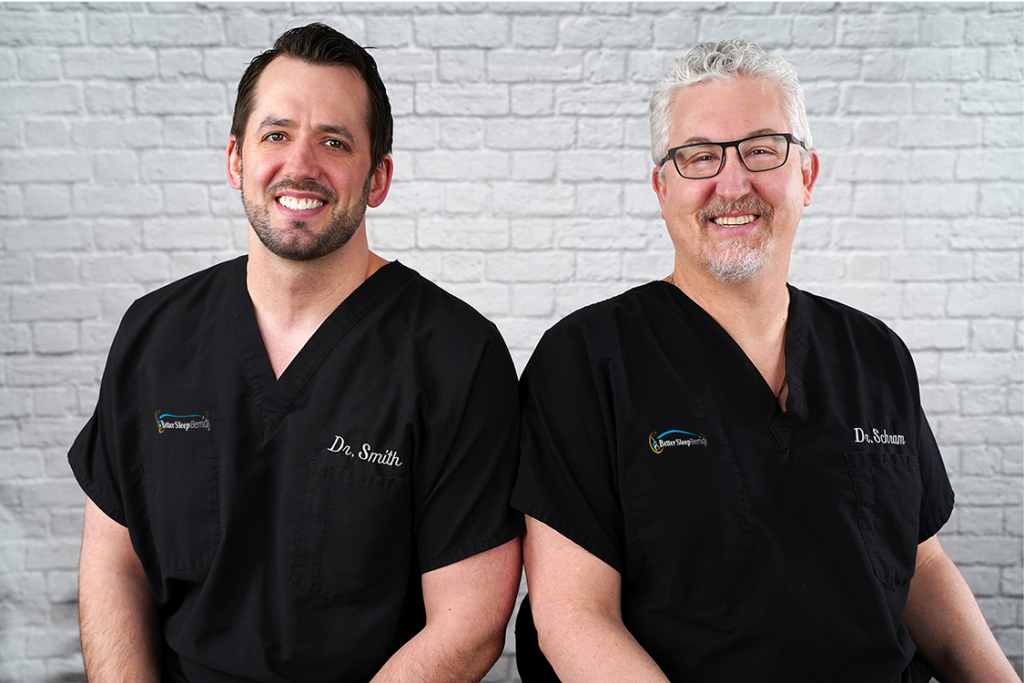 Dr. David Schram (pictured on right) is from Sibley, Iowa where he graduated from high school in 1984. He earned his B.S. in Biology from Northwestern College in Orange City, Iowa in 1988. In 1992, he graduated from the University of Minnesota School of Dentistry before completing a one year residency in Advanced General Dentistry at the University of Minnesota. Dr. Schram and his wife, Nancy, have been residents of Bemidji since 1993, when Dr. Schram joined Bemidji Dental Clinic. They have an adult son, daughter, son-in-law and a beautiful grandaughter who is the apple of his eye. In his spare time, Dr. Schram enjoys spending time with family and friends, both water fowl and deer hunting, fishing, motorcycling, and is an education "junkie"— continuously learning through advanced education classes, podcasts, and literature. The technological advances in the dental field and how that has the potential to improve overall patient care is very exciting to Dr. Schram.