Trained in the dental field, Dr. David Schram, Dr. Blake Smith and their team are in the unique position of looking into peoples' mouths daily. Through the advancement and investment of modern technology and extensive training, they knew that an important part of patient health must be further explored: Airway health, which is directly related to overall health and many health conditions. What started as simply caring more fully for those they care for, expanded into a passion and the realization that far too many people are undiagnosed and untreated for airway health issues. Many do not know they have an airway problem nor that other health concerns may be linked to airway health. As patients visited, sometimes in tears upon the realization that what was going on in their lives was validated by real life physical reasons — and better yet, that there was help — the doctors knew they had more to offer to the community and beyond. Thus, the birth of Better Sleep Bemidji, where, through screening and collaboration with physicians, help can be achieved. The statistics are astounding. 80-90% of people who have sleep apnea are undiagnosed: 1 in 4 men and 1 in 10 woman having sleep apnea. It is the knowledge and training which we have gained which has fueled our passion to help the community by opening Better Sleep Bemidji.

Dr. Blake Smith (pictured on left) grew up in Little Falls, Minnesota and graduated from Bemidji State University in 2007. Dr. Smith graduated from the University of Minnesota School of Dentistry in 2013, and then joined Bemidji Dental Clinic. He and his wife Stacy, a Physician's Associate with Sanford Health, love the Bemidji area and are proud to call it our home. Dr. Smith and Stacy have two wonderful children that keep them endlessly busy. Dr. Smith spends his free time hanging out with family and friends, hunting and fishing around Cass Lake, and enjoying the many biking paths around the area. Dr. Smith is excited about what new technology brings to patient care. He enjoys all areas of dentistry, but especially enjoys working with Cerec technology and cone beam imaging to provide same day crowns, orthodontics, and implant dentistry.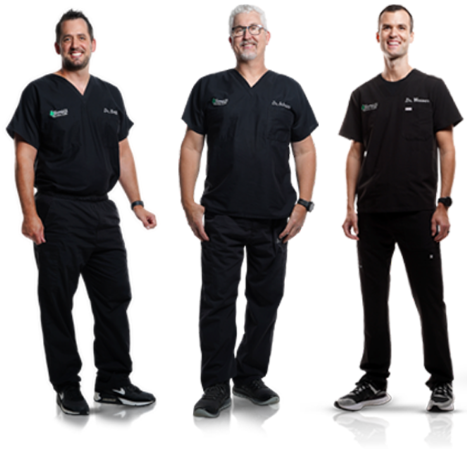 Dr. David Schram (pictured in the middle) is from Sibley, Iowa. He earned his B.S. in Biology from Northwestern College in Orange City, Iowa in 1988. In 1992, he graduated from the University of Minnesota School of Dentistry before completing a one year residency in Advanced General Dentistry at the University of Minnesota. Dr. Schram and his wife, Nancy, have been residents of Bemidji since 1993, when Dr. Schram joined Bemidji Dental Clinic. They have an adult son, daughter, son-in-law and two beautiful grandaughters who are the apple of his eye. In his spare time, Dr. Schram enjoys spending time with family and friends, both water fowl and deer hunting, fishing, motorcycling, and is a continuing education "junkie". The technological advances in the dental field, and how that improves patient care is very exciting to Dr. Schram.
Dr.Andrew Weaver (pictured on the right) was born and raised in Bemidji, Minnesota. He earned his Bachelor's degree from the University of North Dakota in 2011. Dr. Weaver continued his studies at the University of Minnesota School of Dentistry, where he graduated in 2015. While in dental school, Dr. Weaver was involved in multiple committees and was fortunate enough to spend a summer doing dental research at the National Institutes of Health (NIH) in Bethesda, Maryland. Dr. Weaver has been practicing dentistry in Bemidji since graduation, working both in public health and private practice. He and his wife Molly, a Physical Therapist at Sanford Health, were very excited to welcome their son in 2021. In his free time, Dr. Weaver enjoys being with family and friends, hunting, running, cycling, swimming, and competing in Ironman triathlon. He loves all the outdoor opportunities that the Bemidji area has to offer. Dr. Weaver strives to provide high quality personalized care, all while developing life long relationships with his patients.